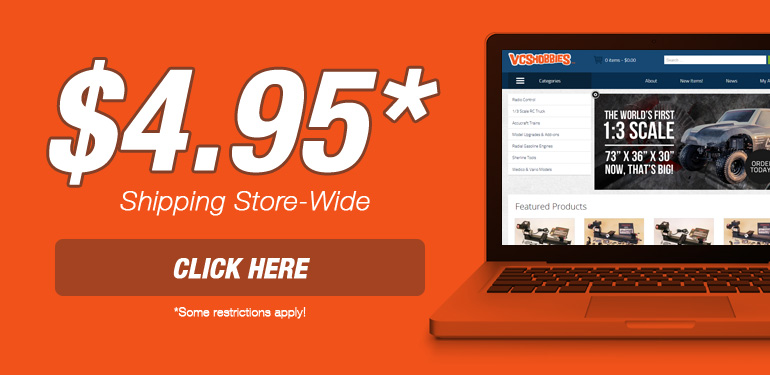 $4.95 Shipping!
Shipping at VCSHobbies.com is only $4.95! This applies to all our products except:
* Sherline Lathes, Mills, Packages and CNC machines
* Wedico & Vario trucks and construction models
We simply cannot make any money if we offer FREE shipping – but we do offer flat rate reduced shipping – so you still save!
This offer is also restricted to domestic orders (U.S. Territory)
TECHNICAL ASSISTANCE AND QUESTIONS
We have a broad range of knowledge about our products. If you ask for advice we will give it. Email us any time: sales@vcshobbies.com
WE SHIP QUICKLY
All orders received by 3:00 PM (Eastern Standard Time) will within 24hrs provided it's in stock. We use the US Postal service & UPS. We ship standard ground and sometimes drop ship from our supplier. If you need extra fast shipping such as Next Day, or 2-day service, please notify us and we will provide pricing. These services may be limited depending on your service area. Holidays and weekends will delay delivery. If there is a delay or an out of stock item, we will notify you as soon as possible.
SHIPPING FOR INTERNATIONAL ORDERS
Here is a short list of countries that won't be open for international shipping:
Afghanistan, Benin, Brazil, Brunei Darussalam, Colombia, Comoros, Cuba, Falkland Islands, Ghana, Greece, Indonesia, Iran, Iraq, Jordan, Lao People's Republic, Lebanon, Liberia, Libyan Arab Jamahiriya, Malaysia, Mexico, Nigeria, North Korea, Pakistan, Saudi Arabia, Somalia, Sri Lanka, Sudan, Syrian Arab Republic, Turkey, United Arab Emirates. Syria. You are responsible for any and all duties, fees and charges from for your country. We are not responsible for lost packages. Shipping can take upwards of 3 weeks.
ORDER PROCESSING
VCShobbies understands the need for accurate order information. We strive to keep you informed every step of the way with email notifications on the status of your order.
BACKORDERS
A backordered item is an item that we normally carry in stock, but which is currently out of stock. When we put an item on backorder to you, we will automatically ship the item to you (via Standard Ground) when we receive the item back into our stock. Backordered items to US addresses will be shipped via Standard Ground unless you specifically request otherwise, even if the original order was shipped via Air.
For retail orders to be shipped to the 50 states of the USA: There are no additional shipping charges when your backordered items are shipped unless you request Air shipment. For orders to be shipped out of the USA: You will have to pay the actual shipping charges for the shipment of any backordered items. We may cancel your backorder if we are unable to contact you by E-mail to ask you to authorize the shipping charges for the backordered items. Online "In Stock" status and estimated arrival dates are updated nightly. If an item sells out during the day, it will still show "In Stock" until the nightly update.
CREDIT CARDS THAT WE ACCEPT
We accept: Visa, MasterCard, Discover, and American Express credit cards.
CREDIT CARD FRAUD
VCShobbies has taken steps to deter credit card thieves from using stolen credit card information on our site. We request that all customers shipping to addresses other than their billing address notify their credit card company of the alternate shipping address. This process is becoming standard and credit card companies are happy to assist you. Simply call your credit card company and let them know you are placing orders via the Internet and would like to give them an alternate shipping address. Doing this will speed up the order process.
If our fraud department checks an order and the shipping address is not listed on the credit card account, the order will be delayed. An e-mail will then be sent to notify you of the delay and request you register the alternate shipping address with your credit card company. You then have 48 hours to register the alternate shipping address and notify us before we cancel the order. Again, if there is no response from you within 48 hours, we will cancel your order. Under no circumstances will Internet Hobbies ship to a third party. We can only ship to the person who is using their credit card for the purchase.
To further deter credit card fraud, VCShobbies requires a Signature Confirmation Program through the U.S. Postal Service and UPS. You will be required to sign for the package on delivery. There will be a small charge for this service. ONLY THE RECIPIENT CAN SIGN FOR THE PACKAGE.
RETURNS
For over 15 years, we've been making our customers happy. While we hope that you'll love the products you purchase from us, we know sometimes this doesn't happen. In most cases (except for defective or damaged merchandise), you can simply log into your account and request an RMA number or email us at SALES@VCSHOBBIES.COM. YOU ARE RESPONSIBLE FOR SHIPPING BACK TO VCSHOBBIES. NO returns over 30 days accepted. All returns require an RMA number. Normal returns are 7 days from receipt – all others require authorization.
Kits are returnable only if the contents are in an undisturbed, like new, resalable condition. The return of a kit will not be accepted if:
Parts have been removed from sprues or wood sheets.
Construction has been started.
Bags of component parts have been opened.
Item(s) do not have original packaging or are not in resell able condition
Original Box has been damaged.

WE Do NOT accept returns on Wedico & Vario Products
Please note that non-defective merchandise returned may be subject to a 15% restocking fee.
*IS YOUR PRODUCT DEFECTIVE RIGHT OUT OF THE BOX?
If you have a product that is defective right out of the box, it can usually be repaired or replaced at no charge. HOWEVER some manufacturers insist on dealing directly with you in these situations. Please see your product manual.
**HAS YOUR PRODUCT BEEN DAMAGED IN SHIPPING?
In order to get proper credit, merchandise that is damaged as a result of shipping should never be returned without calling us first. It is very important to save ALL packing materials and paperwork, as well as the damaged product. Call us at 718-921-6159 and we'll give you further instructions. A representative of the shipping company must see the packaging and pick up the product.
SEND RETURNED ITEMS TO:
Vcshobbies
7513 3rd ave
Brooklyn, NY 11209
WARRANTIES
We guarantee our products to be free from defect for 15 days after the date of purchase. If you find that an item you purchased from us is defective within that 30 day period, we will replace it at no charge to you (except shipping). If the item has a manufacturer's warranty within the USA, please send it to them. Cutting tools and kits are not warranties.
PRICE CHANGES
Any price, specification, or special offer on our website or in our catalog is subject to change without notice. We hope to keep the prices as printed in our current catalog until the next catalog is printed. Sale prices in the catalog or web site may be withdrawn at any time. Vcshobbies is not responsible for inadvertent errors on this website or its catalog.