Description
Rokuhan C005 e-Train Controller PREORDER ONLY
The Rokuhan e-Train Controller has been designed for for use on HO, N and Z gauge locomotives. It is designed to be operated using a smart phone or tablet through a downloaded app. The e-Train Controller can be operated wirelessly though the use of an optional Bluetooth module (not included).
The app is designed to work on iOS 8.0 and above, and Android OS 5.0 and above. It is not available for Windows mobile devices at this time. Please confirm operating systems and compatibility when ordering. The controller is designed to operate booth DC and DCC locomotives. It is easily switched between the two modes.  The interface is designed for ease of use including the ability to swipe to select different locomotives and interact with the various screens and menus.
Maximum rating of the controller is 12V 1.5A for N and Z gauge. For HO, it is 16V 1.5A.  A full set of functions can be controlled through the e-Train Controller including constant lighting of cars and locomotives.
In DCC mode, you can control any loco with installed ROKUHAN decoders or locos with a DCC mobile decoder installed and sold by another vendors such as Digitrax. It is possible to control a couple of DCC mobile decoder equipped locos, on the same track using digital mode (DCC). For example, you can change the speed, or turn the head and taillights on and off.
DCC decoder CV values can be set with the e-Train Controller.  DCC commands comply with the NMRA standards. The UI can be customized to include photos and description of each locomotive added to your library.
The C005 comes in with a built in speaker. An external speaker can be connected to the controller.  The app contains a variety of sounds. Sounds can be assigned to a locomotive. Additional sounds will be added to the library. All sounds can be adjusted.  Wireless operating range is more than 30 feet with installed Bluetooth module (not include)
Accessories can be controlled with the app. Rokuhan's digital turntable is setup as a default in the application. Rokuhan turnouts will be controlled in the future. Rokuhan will be releasing a digital module for their turnouts in the future.
Whats Included
The controller includes an input cable for tablets, a feeder cable for Rokuhan tracks, power adapter and instruction manual.
DCC Vehicle Control
Multiple controllers on the same track with digital decorated vehicles! Locomotives equipped with decoders can be operated, even multiple locomotives.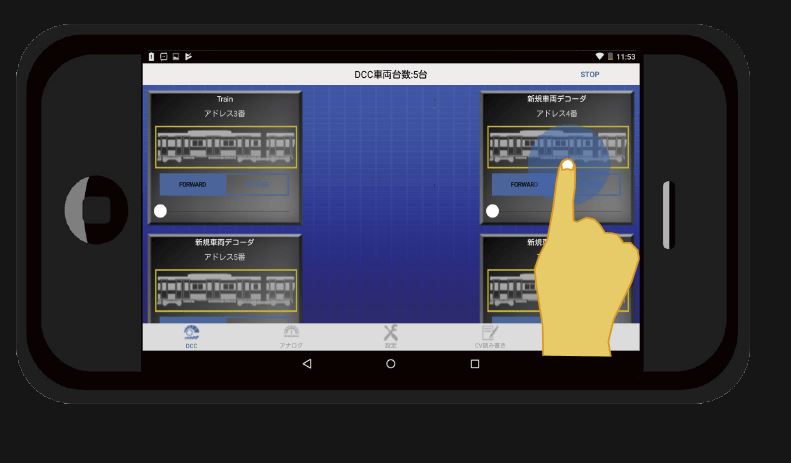 In the horizontal screen mode, simultaneous running management of multiple vehicles is possible. 
You can manage simultaneous running of multiple locomotives on the landscape mode. You can also operate the Rokuhan Turntable (sold separately) without a decoder!
Features of Rokuhan Controllers
DC voltage controller with digital voltage control which generates less heat.
The maximum output is 10V DC at 800mA.
Digital circuit breaker automatically turns the power off in the case of an accident, then on again by reset.
Has 2 switches to control turnouts.
Works with either an AC adapter or 8 pcs of AA batteries. Batteries enable portable use.
There are also terminals for accessory output to power lighting in structures, etc. Main switch allows you to control the electric supply to accessory output for lighting structures, etc.
Has 2 colored LED indicators for showing the power status either normal or faulty.
Has 2 terminals to connect an "R023 Additional turnout switch" which will be sold separately.
With a fuse for safety.
PLEASE NOTE: There may be functions that the application does not support and models that cannot be read or written by the decoder. We do not assume responsibility even if the data is lost at the time of using this product, please be sure to backup your data before using. Lastly, if you leave the default setting, the terminal will automatically go to sleep if you do not operate for a certain period of time, the application will stop at this time. Please cancel sleep mode and perform operation.