Description
Sherline 6500 – Stepper Motor Spindle Mount Kit
Included in the kit
The kit includes a custom bracket that supports the motor and the standoffs that attach to the mounting bracket. Also included are the standoffs, motor mounting bracket, 15-tooth motor pulley, 30-tooth spindle pulley, toothed drive belt and mounting hardware. Not included are the headstock and stepper motor (P/N 67127), which must be purchased separately. (A 10-tooth drive pulley is also available for special order for a slower 3:1 drive ratio instead of the standard 2:1 ratio. It is part number 65003.)
Installing the stepper motor
The conventional installation and an alternate space-saving alternative are shown below. If using the alternative method, flats must be ground on the spindle shaft to accommodate the pulley set screws. If this is not done, the galling of the spindle shaft caused by the set screw points can make the pulley difficult or impossible to remove from the shaft.
The first photo (Figure1) below shows the conventional configuration with the timing belt pulley replacing the standard 2-position V-belt pulley. This gives the most support for the drive belt. Although not originally designed for it, the motor can also be installed in the other direction as shown in the right-hand photo (Figure 2) if space requires. (The standard two-position pulley has been retained here in order to cover the bearings and preload nut.) Additional flats should be ground on the spindle shaft to accommodate the timing belt pulley set screws. The headstock and stepper motor shown here are NOT included with the kit.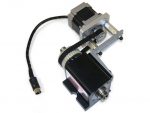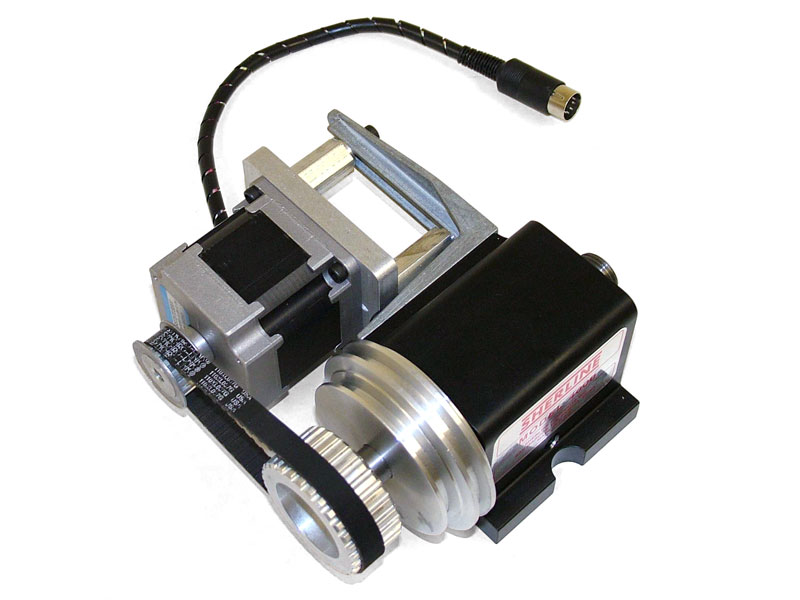 NOTE: Stepper Motor RPM Range
We have had customers who want to use the stepper motor (on the headstock) as a dual purpose motor. They want to use it to index the headstock to do machine work (mill flats, or cut out inlay areas on a pool cue). They also want to use it as a drive motor to turn stock (to replace the DC motor).
The max RPM of the spindle with the stepper motor and cog pulley mounted to it is 225. The Min RPM is 6 – 10.
Replacement Parts – 
12050 – 8-32 X 3/8″ Skt Hd Cap Screw
40020 – Motor Bracket
40660 – #10 Washer 3/16
40690 – 10-32 X 3/4″ Skt Hd Cap Screw
43100 – Dc Motor Stand Off Assembly
65001 – Timing Belt
65002 – Timing Belt Pulley
65016 – Industrial 3Ot Spindle Cog Pulley
671030 – Stepper Spindle Motor Mount
If you wish to order a Sherline lathe or mill that will bedriven by this stepper motor kit rather than the standard DC motor,
you can request that we delete the DC motor and speed control. The delete credit is currently $105.00 off the list price of the lathe or mill. Please email for complete details.